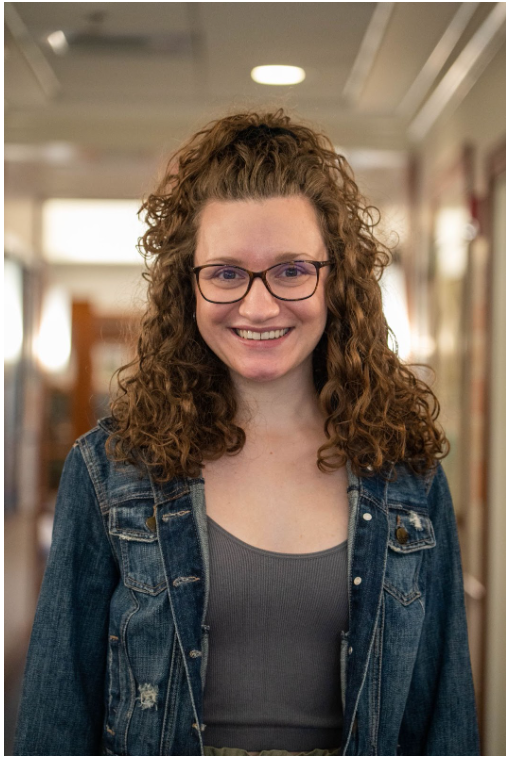 Ms. Poulin: smiley, passionate, creative, and so much more. After 4 years here as an English teacher and co-dance coach, Ms. Poulin is leaving Pingree at the end of the 2021-2022 school year. As a gift of gratitude for her guidance and kindness, we dedicate this article to her years in these halls and the bright journey that awaits her.
Whether on the stage or in the classroom, Ms. Poulin infused her energy into her time with her students. Ms. Poulin shares that one of her favorite moments from her Pingree experience was attending the New York City Dance Alliance (NYCDA) twice with the Pingree Dance Team. "NYCDA was my favorite dance convention to attend growing up," Ms. Poulin says "so it was really special for me to share the experience with the Dance Team… We take classes during the day and compete at night, so it ends up being about a twenty-hour day altogether, but that just makes it more fun—everyone gets sleep-deprived and silly and we laugh until our sides hurt. I always left that event feeling buoyant for weeks—just so grateful that something I love so much could be a part of my job, and that I get to do it with people I care so much about." When she wasn't creating choreography for NYCDA, Ms. Poulin could be found in the English Department, leading inspiring classes for a forward-thinking future. Her senior electives, specifically Politicization of the Body and Race, Gender, Power, have been favorites of students and Ms. Poulin alike. In the words of Ms. Poulin herself, "we have to understand the systems we're living in, and how our lived experiences are shaped by those systems, to begin imagining what a just society would look like," and that's where English comes in. Whether in senior seminars or sophomore Lit., through poetry or storytelling, Ms. Poulin continues to use her role as an educator to inspire a more just future. 
In the days and years ahead, Ms. Poulin will continue to pave the way for change. Next year, Ms. Poulin will be working on a dual master's degree in Curriculum & Teaching and Education for Equity & Democracy at Boston University. In the hopes of deconstructing "the barriers between education and activism," Ms. Poulin will be researching and developing learning programs and systems as well as getting involved with Dr. Ibram X. Kendi's Center for Antiracist Research, which is housed at BU.
From being a coach to a teacher to simply an understanding soul, Ms. Poulin has impacted the lives of us all at Pingree school. This is not a goodbye – as visits are a must– but rather a  'see you later.' So thank you, Ms. Poulin, from the bottom of our hearts for all you have done. And good luck!