The Path to Creating an Anti-Racist Community
On Tuesday, June 2nd, Americans across the nation stood together in solidarity against racism and police brutality after the death of George Floyd. Images of black squares with the hashtag #BlackoutTuesday dominated Instagram, Twitter, Facebook, and other social media platforms. Pingree also stood in solidarity against racism and police brutality by posting a black square image, using #BlackoutTuesday on Instagram. 
Hundreds of brave alumni and current Pingree students responded negatively to Pingree's Instagram post. They couldn't believe the school was supporting this moment when, for years, racist incidents had been happening on campus and were often being "swept under the rug." They wrote about witnessing and/or being the victim of microaggressions committed by teachers or other students. Additionally, the comments section described extremely insensitive culture that had been observed at Pingree. 
One alumna recalled being told "not to speak Spanish outside of class because this is an English-speaking school."  A 2020 graduate wrote: "Martin Luther King Jr. Workshop Day is (and has always been) an all-school skip day." A large number of students believed Pingree "can't move on together" without transparency of racially-charged incidents within the school.
In response to these 200+ comments, on June 4, Pingree posted on Instagram, acknowledging that "we have work to do."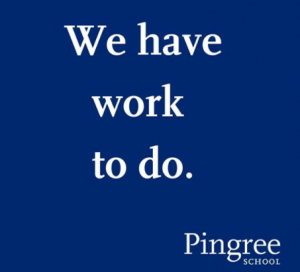 The June 4th post unleashed another round of comments from individuals speaking out against racism – and demanding change – at the school. Pingree immediately took steps in response to sustain the urgency of the situation. Only six days later, the school decided to conduct a series of town hall forums to hear people's concerns, and begin the work of becoming a strictly anti-racist community.
On June 10, current students of color met with all Pingree administrators and faculty members over Zoom. This meeting was meant to be a safe space for students of color to speak wholeheartedly about their experiences dealing with racism at Pingree. All teachers and administrators had their cameras and microphones off in order to make this meeting feel like a discussion among students rather than speaking to an audience.
A week later, all Pingree community members, including students, parents, and alumni, met over Zoom to further discuss the racial inequities and injustices at school. Special guest speaker DeRay Mckesson, a civil rights activist and strong supporter of the Black Lives Matter movement, shared his insight on how Pingree can be the change we need in our country starting right here in our community. A key takeaway from Mckesson's presentation was the importance of knowing our local policies at the town level. "There is a lot that happens on the local level that we may or may not always be aware of," says Dr. Spooner, assistant head of school for instruction and equity and history teacher. Dr. Spooner believes Mckesson pushed Pingree to "continue to remain civically engaged, so we can take action." 
These two forums were followed by a Parent Action Steps and Program Planning meeting on July 15 and another meeting for sharing and listening for alumni of color at the beginning of August. The goal of these meetings was to hear the specific issues and needs so that Pingree could take the action steps required to make our community a more anti-racist and equitable place for all. 
Ms. Kristin Brown, associate head of school and history teacher, found these meetings to be essential. "There was a much more unified understanding of how challenging it is to be a student of color in our community, and, therefore, how much urgency there needs to be to make change."
At the end of the summer, Pingree introduced its "Preliminary Equity and Anti-Racist Action Steps" to demonstrate its commitment to equality and equity for all. These actions steps are as follows: 
Deliver an anti-racist education to all students

Develop, equip, and expect every Pingree employee to foster and sustain an equitable, inclusive, and anti-racist culture

Respond to incidents of racism and discrimination decisively

Develop a long-term, concrete equity and inclusion action plan with accountability checkpoints to dismantle racism in our community
As part of its recent equity and anti-racism policy efforts Pingree has also:
Updated its non-discrimination policy, banning racial slurs 

Added a policy banning music with racial slurs

Introduced an art department vetting process designed to guarantee all art reflects the values of the Pingree community 

Launched a required, annual, anti-racist summer read 

Ensured that diverse perspectives, voices, and authors will be represented in the curriculum

Implemented time during morning meeting to reflect on important anti-racism topics. 
The race-related tensions and sociopolitical climate in our country affected Pingree this fall, like it did many other schools. To continue its anti-racist efforts from this summer, Pingree integrated more work focused on equity in the curriculum.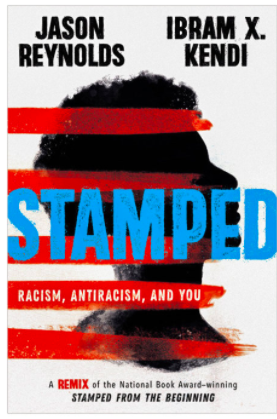 Every summer there is a community read, a book chosen by students and teachers, that the entire Pingree community is encouraged to read. This year, Pingree moved beyond the traditional community read and required all students and teachers to read Stamped: Racism, Antiracism, and You by Jason Reynolds and Ibram X. Kendi. Conversations about this book and the history of racism in America have filled every classroom. In order to start anti-racism work in our community, Pingree needed to first take a step back and look at the history of race and racism more broadly.
"Every department over the last two years has been developing an action plan in terms of anti-racism in their curriculum," notes Ms. Brown. For example, the Pingree English Department has integrated anti-racist policies with regard to slurs in literature and fostering an inclusive classroom space for all. The purpose of this policy is to make clear that Pingree has a zero-tolerance policy about racism in the classroom.
Outside the classroom, Pingree's social justice clubs are doing amazing work. People of Color Coalition (POCC), Multicultural Student Union, Gender & Sexuality Alliance, Jewish Student Union, and Women Empowered are all student-run organizations committed to making Pingree a more equitable school. These social justice clubs, especially POCC, are focused on holding Pingree accountable for making changes based on the equity and anti-racist action steps issued at the end of the summer. 
Unfortunately, dismantling centuries-old systems of racial inequality will not happen overnight. Right now, Pingree "students and faculty members need to all be doing their individual work," Dr. Spooner advises. Everyone in the community "needs to examine their own perspectives, places where they need to grow their awareness and knowledge, and how we all are related to each other in this community." 
Pingree School is on the right path to combating racism, but students and faculty must hold the school accountable for years to come. 
It is "long-term, continuous work," says Dr. Spooner. "This is not the work of just a few weeks or months. This is going to take sustained, committed, long-term action to make a difference for us to realize change."
Leave a Comment