AAU Basketball: The Pros Outweigh the Cons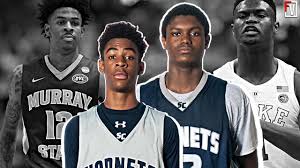 AAU is a nationwide high school basketball league that gives many young athletes their best opportunity to be noticed by colleges. Recently, top AAU basketball players have achieved  high levels of fame and entrance to some of the best colleges in the country. This is because unlike high school basketball, teams on the top AAU circuits are made of almost all future Division 1 athletes. College scouts and coaches would much rather visit AAU games instead of high school games because the competition level is much higher on AAU, and it's seen as an accurate representation of a player's true skill.
 Zion Williamson, a 2020 Rookie of the Year candidate, is a perfect example of a player who benefitted from AAU. Williamson was playing average high schoolers when he was already built like an NBA player. AAU tournaments were his time to shine and prove himself against other players near his talent level. Ja Morant, the second pick in the 2019 NBA draft and Rookie of the Year, was another AAU player. Morant had no college interest before one tournament when the Murray State University coach visited to watch another player. The coach went to the court Morant was playing on to buy a snack and noticed Morant's talent. This gave Morant the opportunity to play college basketball at a high enough level to get serious looks from the NBA.
What's clear is that many players, including Williamson and Morant, have benefitted from playing on AAU teams. Several NBA players and coaches, however, have criticized the league. One issue, they say, is that when AAU teams play, they have no incentive to win. "What trouble[s] me [is] how much winning is devalued in the AAU structure," Warriors coach Steve Kerr told reporter Joshua Eferighe of KultureHub. "Teams play game after game after game, sometimes winning or losing four times in one day. Very rarely do teams ever hold a practice. Some programs fly in top players from out of state for a single weekend to join their team. Certain players play for one team in the morning and another one in the afternoon." Kerr brings up a good point in how winning has been trivialized in AAU basketball. Individual success takes priority over competing well as a team.
Another common complaint with AAU basketball is the so-called "shady" deals that go on in the background. This year, top NBA prospect James Wiseman found himself in the midst of one of these shady situations. In high school, Wiseman was coached by former NBA player Penny Hardaway. While Wiseman was still in high school, Hardaway was named Memphis' new basketball coach. Wiseman ended up committing to Memphis which raised a lot of questions about whether Hardaway persuaded Wiseman to join him in illegal ways. This was especially speculated when it came out that Coach Hardaway gifted Wisemans family several thousand dollars to help them move to Memphis to play for Hardaway's high school team. When this news broke, Wiseman received a 12-game suspension and ended up leaving college to focus on training for the NBA.    
In my opinion, the pros of AAU basketball outweigh the cons. This is because even with the shady deals and the selfish mindset, the league still gives more opportunities to players who aren't as highly ranked. There are many players who might not have been able to play college basketball but are given the opportunity – and offered incredible scholarships – because of one good AAU tournament.
Leave a Comment