Boston Bruins 2020 NHL Draft Recap
With the loss of key defenseman Torey Krug, and RFA's Zdeno Chara and Jake Debrusk having yet to be signed, the Boston Bruins looked toward the future of the organization in the 2020 NHL Draft. 
The Bruins are known for going off the board with their picks, and they didn't stray from that mentality this year. After trading away their first round pick (as well as David Backes and prospect Axel Andersson) to the Anaheim Ducks in order to acquire Ondrej Kase back in February, their first pick of the draft came in the second round, at 58th overall.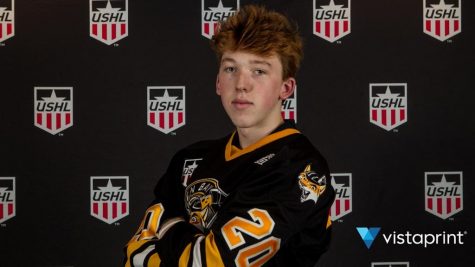 Second round (No. 58 overall): Mason Lohrei
With this pick, Boston prioritized gaining a solid two-way defenseman in Mason Lohrei, a 19 year-old who went undrafted in 2019. This year, Lohrei was ranked 132nd among North American skaters by Central Scouting, but the Bruins opted to take the blue liner earlier than his projected pick. Let's take a look at what they saw in Mason Lohrei:
For starters, he definitely has size. Elite Prospects currently lists him at 6-4, 200, a big-bodied defenseman. He currently plays for the Green Bay Gamblers of the USHL and will continue with them for the 2020-21 season, prior to attending Ohio State for the 2021-22 campaign. Last season, he played a total of 48 games with Green Bay and scored eight goals along with 29 assists, making him the highest scoring defenseman on his team and the player with the second highest points totaled. 
In three games with the Gamblers this season, Lohrei has two goals, two assists and a plus-minus of +4. 
"I'd consider myself a two-way defenseman, pretty skilled," Lohrei explains. "I can play in all situations. Five-on-five, power play, penalty kill. Start games, finish games." 
Lohrei attended the Vegas Golden Knights development camp in 2019. Being there gave him important insights about how to improve his game.
 "Being more physical is something from camp that I learned a lot. Something that I'm really trying to implement in my game now." 
Lohrei's dad, David, was a minor league scout as well as a USHL, CHL and ECHL coach, so the game of hockey runs in Mason's blood. The family has had to move around quite a bit, following David and his coaching career from Louisiana to Pennsylvania to his most recent coaching stint in Wisconsin. 
One connection to the Bruins is Lohrei's previous roommate in Green Bay, Jake Schmaltz. Schmaltz was selected by Boston in the seventh round of the 2019 draft.  
Bruins fans can look forward to Lohrei's size and high hockey IQ when he's ready to join the team. Lohrei is excited to get started in this historical organization. 
"Growing up, my dream has always been to play in the NHL. I think whenever that can happen, whenever the Boston Bruins see fit for me to come into the organization, I think I'll be ready."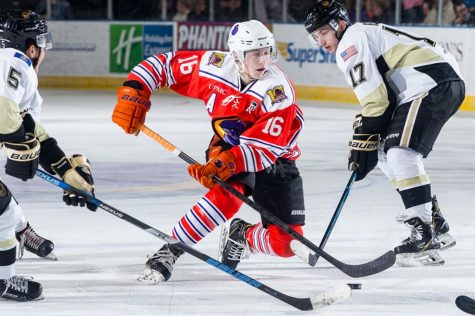 Third round (No. 89 overall): Trevor Kuntar
With the 89th pick of the 2020 draft, the Boston Bruins selected 19-year-old center Trevor Kuntar. Kuntar has most recently played with the Youngstown Phantoms of the USHL but is set to play at Boston College this year. BC's first game of the season is on Friday, November 20 against UNH. 
Listed at 6-0, 200, Kuntar was ranked 143rd by Central Scouting going into the draft. Once again, the Bruins go slightly off the board and take him earlier than projected. 
Last season, Kuntar led the Phantoms in scoring with an impressive 28 goals and 25 assists in just 44 games. His 28 goals tied him for third in the league. He's known for his strong shot, but also tends to spend a good amount of time in the penalty box (83 minutes in 44 games last season). 
Another family connection to the hockey world is present, as Kuntar's dad, Les, was a goalie for the Canadiens, playing six games during the 1993-94 season. Interestingly enough, Kuntar was also roommates with another Bruins draft pick, Curtis Hall. Hall was selected in the 4th round by Boston in 2018. 
Kuntar describes himself as "a hard-working player. A two-way power forward." He says that he "loves to compete every night." One area that he says needs improvement is his feet. "Just getting quicker. I think that is probably one of my skill sets I'm honing in on to get better.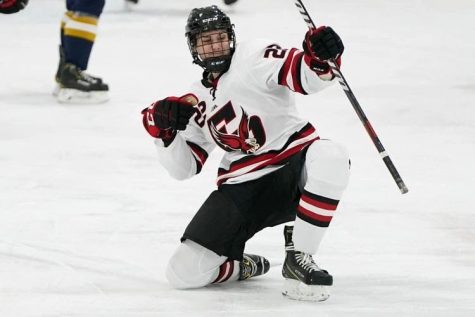 Fifth round (No. 151 overall): Mason Langenbrunner
At pick 151, the Bruins returned to their need for young defensive players with their selection of Mason Langenbrunner. He is currently playing for the Sioux City Musketeers of the USHL, and is committed to play for Harvard in the 2021-22 season. 
Langenbrunner is a right-shot defenseman listed at 6-2, 165. He has consistently been a strong two-way defenseman for his high school team, where he primarily played last season. Langenbrunner totaled 19 points in 25 games for Eden Prairie High. He has played three games for the Musketeers this season with no goals or assists and a plus-minus of +2. 
His dad is Jamie Langenbrunner, former NHLer and current director of player development for the Bruins. 
"They say it's not because of who my dad is but because we love you as a player and believe in your upside," Langenbrunner explains of the Bruins selecting him.
"Being drafted by the Bruins was the most incredible thing to happen in my life," says Langenbrunner. "Growing up a Bruins fan and having a dad in the organization, I always cheered for the B's. I think I can add a reliable two-way defenseman to the organization. I can make plays offensively, but also be reliable in my own end. I'm so excited to be a Bruin and be in the best sports city in the world!"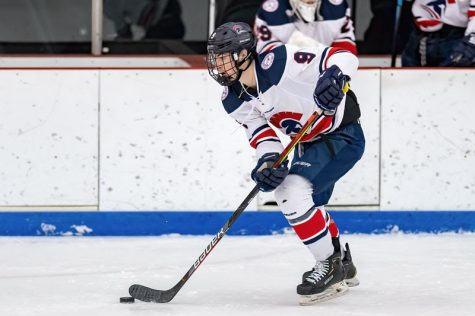 Sixth round (No. 182 overall): Riley Duran
With what ended up being their last pick in the draft at 182, the Bruins selected Riley Duran, a center currently playing for the Youngstown Phantoms of the USHL. Duran played for both Lawrence Academy and the Cape Cod Whalers last season, and is committed to play at Providence College for the 2021-22 season. 
The 6-1, 174-lb. centerman from Woburn, Mass. is excited to play for his home team. "It couldn't have worked out better," Duran says. "From the day I was born, I was a Bruins fan and still am now. I'm just so excited to be a part of this organization."
At Lawrence Academy, Duran totaled 22 goals and 22 assists in 27 games. He earned nine goals and 11 assists for the 18U Cape Cod Whalers. 
He has played three games this season for the Phantoms, with no goals or assists and a plus-minus of -3. 
On 98.5 The Hub, they explain that a source told them, "Duran is a big body with an all-around pro skills package." 
Duran's love of the sport is obvious. "I love to compete," Duran says. "I love to get the puck low, and I love to get the puck to the net. One of my favorite players growing up was Charlie Coyle. I just always remembered watching play at BU for half that year and then following him on to his pro career. He plays a 200-foot game, he can score goals and he can lay the body, so that's what I like to play."
The Bruins opted to trade their seventh-rounder to the Toronto Maple Leafs… for a seventh- rounder in the 2021 draft. Bruins fans will have to keep their eyes out for next year's draft class and the future of this promising organization. 
Leave a Comment