Featured Artist: Niccie Jamitkowski' 21 
Niccie Jamitkowski' 21 is a gifted visual and performing artist who enjoys spending most of her time doing art. She is currently taking advanced studio art and a cappella. 
Niccie has been interested in art since she was very young. She was dedicated to art class in middle school. "Some kids would run the mile in gym class like their life depended on it," she says. "For me, I put all my energy into art class." However, even with such talents, she struggled with confidence. She couldn't think of herself as an artist because she felt she wasn't good enough. Only in the last few years has she really come to see herself as a genuine artist.
Throughout her time at Pingree, Niccie has taken a lot of painting and illustration classes. With her art skills, she contributes to the community in many ways. For example, she designed the Class of 2021 senior shirts, the poster for fall play 4 a.m.,and the cover for the 2021 Pingree School yearbook. She also consistently works on her abstract digital art outside of school.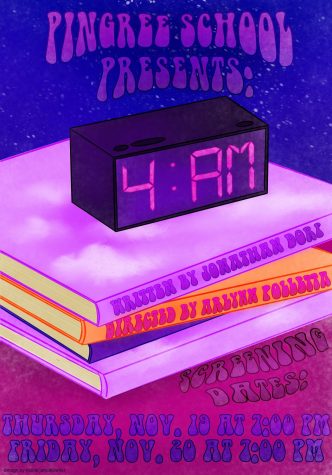 Niccie loves to sing, as well. She has taken a cappella classes consistently and has never missed coffee house to show her talent. She also shines when she sings solo. She was accepted into an International Honors Choral Festival last year and went to Carnegie Hall as one of three representatives from Pingree to perform as part of a huge choir. The Honors Performance Series brings students from all over the world together to perform music while being directed by the leading conductors in choral, orchestral, symphonic, and jazz fields. "Performing at Carnegie Hall was one of the coolest things I've ever done," says Niccie. "I had never really been a part of a large-scale choir before, and the fact that my first experience with it was performing at one of the world's most prestigious concert halls was incredible." She added that it was great to make friends from all over the U.S. and work on new vocal techniques that she had never encountered before.
"Niccie is an incredibly well-rounded, multi-faceted artist," says Thomas Smoker, Pingree's choral music teacher. "There isn't anything she can't do artistically speaking. She is a visionary in visual, vocal, performative, theatrical, and fashion arts. We are lucky to have her, and I have gotten to see her blossom into this beautiful confident artist over these last four years."
Niccie says the merit of doing art is that you can express your true emotions, and nobody can judge you; it's your personal art. Niccie decided to apply to several art colleges. Even if she doesn't go to a specific art college, she will keep working on her art and getting inspired by classic feminist artists such as Tamara De Lempicka, Georgia O'Keeffe, and Gerda Wegener. You can check out Niccie's amazing artwork on Instagram @nicciez.art. She is a talented artist and an inspiration for Pingree students.