Pingree Winter Sports Are Underway
Boys and girls hockey lose to Worcester Academy; a podium sweep for the ski team.
An eventful first weekend of Pingree's winter sports scrimmage schedule featured big wins for the ski team and losses to Worcester Academy for boys and girls hockey. More than anything, players and coaches were excited to be returning to the sports they love. 
It's been a long road here, but with the help of weekly testing for high-risk sports and a number of related safety precautions, teams were able to begin playing scrimmages.
The busy weekend began with six (yes, six!) Pingree students placing in their first ski race of the season. It featured a podium sweep for the boys, with seniors Nolan St. John in first, Thomas Uroskie placing second, and Hogan Rose finishing third. Furthermore, in his first race for Pingree, freshman Max Gaudin came in fourth place. 
The girls had a similarly successful outing with junior Chloe Norris placing second overall and senior Colleen Mackey finishing fourth. 
"I feel fortunate to be able to compete this season!" says Norris. "It was great to get back to racing."
The ski team will hit the slopes again this Friday in an effort to win the Central Mass Ski League for the seventh consecutive year. 
Girls hockey traveled to face a tough Worcester Academy team and unfortunately came out with a 6-0 loss. A bright spot in the game was sophomore netminder Maddie Santosuosso who made 37 saves on 43 shots. 
"It was very exciting to get back on the ice and play together as a team." says Santosuosso. "We are hopeful for more games to come." 
Scheduling is fluid for most Pingree sports, so while there are no games scheduled as of now, the hope is to play Saturday games for the remainder of the season.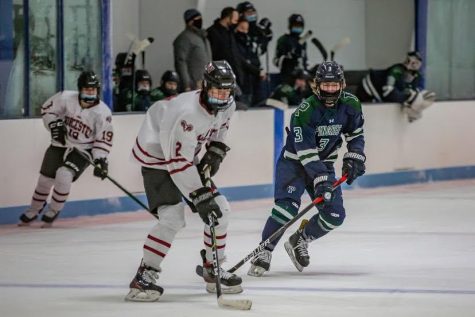 The boys hockey team faced a similar challenge against a stacked Worcester Academy squad at home this Saturday and came out with a 7-3 loss. Sophomore Ryan Clark came onto the ice and perfectly captured the excitement of the team, scoring a goal 3:54 into the first period with assists credited to seniors Clayton Smith and Nick Ferullo. 
It was a special moment for all as Clark's linemates enveloped him in a hug and tackled him to the ice, celebrating Pingree's first goal of the season.
Worcester Academy's offense exploded shortly thereafter, scoring two goals in the first period with the help of a power play to get them going. 
In the second period, both teams showed heaps of offensive energy, with three goals for Worcester and two for Pingree. The two consecutive goals provided hope for the Highlanders, with a rocket from junior Cody Plaza just 17 seconds after senior Joey Silverio fired one in with the help of seniors Sam Murray and Hazen Pike. 
Goaltenders Matt Cusolito and Cam Brown faced an electric Worcester offense, allowing three and four goals, respectively.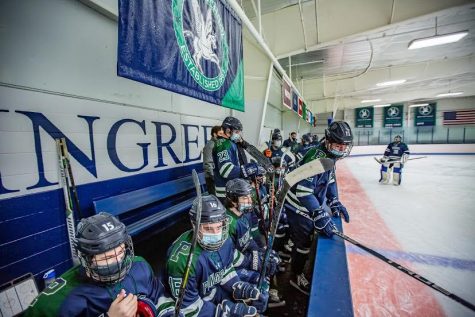 Worcester Academy scored another two in the third to seal Pingree's defeat in their home opener, but nonetheless, the Highlanders showed promise on the ice last Saturday, and they are playing Buckingham Browne & Nichols (BB&N) at home this weekend. 
In the meantime, they'll be working on those little things that will hopefully turn this loss into a win next time around.
"It's a game of mistakes," says Coach Dan Gordon. "It's what you do after them that defines who you are."