Together Again in T3
Pingree Will Double the Number of Students On- Campus While Dodging COVID-19
The final trimester of school this year will be looking very different this spring as we pass the first anniversary of COVID-19, marking a full year of remote and hybrid learning. But will this abnormal cycle of unknown and social barriers continue? When will Pingree students finally return to a semi-normal school life? Well, the answer is now. "Cohorts" will become a word of the past as the entire student body will be coming together on campus next trimester for four days a week: Monday, Tuesday, Thursday, and Friday.
The Pingree staff has been tirelessly working to create an accommodating schedule that allows students to transition from their current two days a week of cohorted on-campus time to the longer four-day schedule. Remaining within safety precautions while making students, parents and teachers feel safe and happy will be a challenge, but Pingree is eager and willing to take this challenge on. After interviewing Associate Head of School Ms. Brown and gathering the details for this upcoming trimester, it is evident how excited and proud the staff are of this new plan.
The new schedule will look very similar to the schedule we have now, but it will be four days a week in person rather than two. The intention is that the asynchronous work students have been completing at home will be brought to the classroom to allow for more face time and guidance from students and teachers. Asynchronous work will be dropping down from 90 minutes to an estimated 30 minutes per class each night prior to the next school day. 
There are several logistical changes being made to the mod system. The 90 -minute blocks will be shortened 10 minutes, becoming 80-minute blocks. Lunch time will be longer, allowing 40 minutes rather than 30 to have a socially-distant lunch inside, or outside, as the warmer weather approaches. In prior years, the Pingree schedule has consisted of three H-blocks. These will be returning, after having dropped down to only two H-blocks for trimesters 1 and 2 this year. Therefore, if a student is enrolled in an H-block, they will still have the other two to use as free blocks, easing the sudden schedule change. Additionally, community events such as  morning meetings and class meetings will remain virtual, while advisory meetings will become in-person within small advisory groups. 
The mod system, which breaks up the trimester into two five-week periods and was introduced in  the fall of 2020, will remain in place, considering that the transition to this new schedule will already be a big jump. This way, students can ease back into a more packed schedule of four on-campus days, but still have only three to five classes (depending on electives) and class locations for 5 weeks  at a time. This aspect of the mod system is intentional: to reduce contact when on campus. Having more students at campus at once will make the number of students pulled for contact tracing higher, so the limited number of groups and classes a student is exposed to will help to reduce the spread in the first place. If there were to be a scenario where contact tracing was necessary, fewer groups of fewer people would need to be pulled at once.
The pods that students have called home the past six months will still exist; however, the surplus of students on campus will require more pod spaces. Due to this change, there will be 7 or 8 pods in various locations around the school. This will look similar to the beginning of the school year, making use of the athletic center, indoor turf, and outdoor tents. Pods will remain with the 6 foot distance protocol between students, and barriers between them in order to allow students to eat lunch safely without masks. The purpose of this is not only to accommodate the double in students on campus each day, but to allow for the classroom spaces to be managed.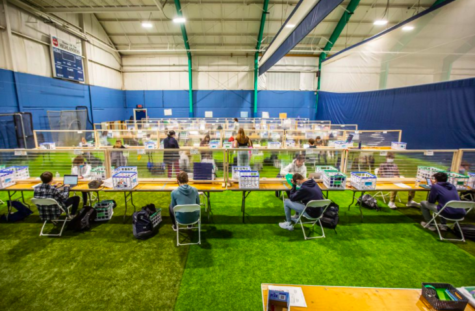 Classrooms will now have roughly 3-6 foot distancing depending on class size and classroom size. Class locations for current courses may change depending on numbers and logistics; the main goal is to make sure that every class has a designated classroom assigned to it. Accommodating this challenge, 11 tents will be added outside to allow more flexibility for teachers. However, classes will never be limited to an outdoor classroom space.
During the off-campus Wednesdays, there will be no in-person or remote classes, or advisory meetings. The only exceptions to this plan will be occasional virtual assemblies, along with several weeks that will use a special schedule.. The first week of Mod 5 will be different, as there will be full-school testing on Monday the 29th when returning from March break. Students will attend on-campus classes for the remaining four days, the following Tuesday, Wednesday, Thursday and Friday. This kind of week with four days of classes in a row will repeat itself occasionally due to Memorial Day, along with mod breaks that will be implemented moving forward.
Co-curriculars will look very similar to a normal school year, in terms of how many days a week practice will take place, and how many students can participate at a time. Students being in school for four days a week, provides the opportunity to attend all after-school activities without having to make additional arrangements to get to campus just for practice. 
Wednesdays will be the day that students will remain at home. However, co-curriculars will continue to run as they did in Trimesters 1 and 2. Many of the surrounding schools are in different stages for their T3 plans, making it difficult to determine scheduled game times at this time. Therefore, the athletic schedules aren't definitive as of yet, but there will most likely be more opportunities for competition than the winter teams had.
The T3 planning input survey was sent out to the Pingree community weeks ago, as the school knew they could grant more of the students' desires this upcoming spring. The survey was intended to determine what aspects of school during COVID-19 were most important to parents and students, if Pingree could allow for more campus-interaction. The result of this survey was that students wanted more classmate interaction, while parents wanted their children to have more time with teachers. The new four-day schedule was created to allow for both of these variables to progress by having more time on campus with both teachers and classmates.
Trimesters 1 and 2 had extremely positive results from a COVID-19 perspective; the most obvious statistic being zero COVID-19 cases spread on campus. These "positive" results along with the strong safety precautions Pingree has maintained allow for a trimester 3 schedule that is even more flexible.
Weekly testing will become necessary for everybody in school, due to the fact that more people will be on campus in closer proximity to each other. This will be done using "pool testing," which is a method of testing intended to limit contact tracing and the need for retesting. A small group of people will self-test, and their tests will all be distributed into a single vial, as opposed to testing each person's sample individually. The benefit of pool testing is that if the vial is positive, rather than retesting everybody in the school, only people in that particular pool will be retested to determine who it is individually. These results will also be rapid, allowing positive tests to be detected and dealt with very quickly. From there, the contact tracing process would begin. This means evaluating which people have been in contact with a student or staff member, considering factors like distance, being unmasked or masked, and the amount of time spent with them. The result of being classified as a "close contact" would mean quarantining alongside the positive case, similar to what the school has been doing so far this year.
For any additional lingering questions, there will be a webinar held on Thursday, March 11th at 7:00 p.m via Zoom for further detail on the new schedule. The purpose of the webinar is to encourage parents and students to ask any remaining questions they may have about the plan for T3 and have them answered, and therefore it is highly encouraged. 
Besides all of these exciting new rules and regulations, none of these plans can work without the commitment and cooperation of everyone in the Pingree community. With classrooms, buses, pods, and hallways doubling in crowd sizes, it will be crucial for students to adhere to the safety precautions and the Pingree Pact. The Pingree Pact preaches respect for others, flexibility and kindness which will all be critical factors to have successful and safe trimester three. Whether it's holding teammates accountable to keep masks up during practice, wayfinding through the school, or giving a freshman directions to their new classroom, we must rely on each other to keep our community healthy going forward.