Who Wants to be a Billionaire?
The cryptocurrency world could be your ticket to wealth.
Sean Ma, Contributing Writer
May 2, 2022
The cryptocurrency world could be your ticket to wealth. Consider Dogecoin (DOGE) or Shiba Inu Coin (SHIB). You might have heard of  Consider Dogecoin (DOGE) or Shiba Inu Coin (SHIB)these popular newcomers to the cryptocurrency world. These altcoins, meaning cryptocurrencies other than bitcoin, dominated most of last year's media attention. Some individuals have made a fortune from investing in these cryptocurrencies. Take Dogecoin (DOGE).  DOGE started out as a small market cap cryptocurrency, trading at around $0.0090 before the price surge, to $0.68 after the surge, which also reached a new high. 
What caused the surge in the price of DOGE?
There are many different reasons. It gained a massive amount of value due to the pandemic. Because people had more free time at home, many of them started online investing. One reason for the increase in crypto prices is the rise of Robinhood, the online trading platform. Robinhood is a financial security and cryptocurrency exchange platform that has a straightforward user interface. This easy-to-use app made crypto trading more accessible to amateur investors and grew DOGE's market capitalization. The presents of Robinhood augmented the amount of DOGE trades. 
Another reason there has been a  massive spike in DOGE's price is the social media activity of a few highly recognizable individuals. One of the most notable figures that has explicitly and implicitly promoted DOGE is Elon Musk, the chief executive officer of Tesla, Inc. (NASDAQ: TSLA).. On April 28, 2021, Musk tweeted "The Dogefather SNL May 8."  According to one news outlet, Musk's tweet of himself being the father of the crypto Dogecoin helped to bring Dogecoin's price from $0.25 to $0.30 in less than 15 minutes. 
Additionally, according to the past price chart of DOGE, after Musk's tweet, the price of DOGE reached a new high. Based on the graph below. Indeed, according to Google Trends. there is a notable correlation between the popularity of Elon Musk and DOGE.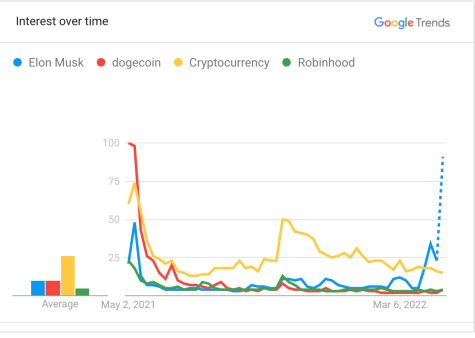 The price of Dogecoin and similar cryptocurrencies is primarily based on the value that the community gives to it. When the majority of people want to possess specific crypto, the demand will go up and the supply will be less, which results in a price increase.
Douglas Boneparth, a certified financial planner and president of Bone Fide Wealth, told  CNBC that "Altcoins like [shiba inu] are primarily community-based, meaning their success is largely dependent on the success and growth of its community, instead of its utility."
According to Yahoo Finance, the price of Dogecoin in February 2022 was 0.14 US dollars. In May 2021, it was around 0.50 dollars. It has experienced a price change of around -70%.
The volatility of small cryptos should definitely be taken into consideration by investors. The culture of meme coin should not be taken as a serious investment due to its high volatility. One should only invest as much as they can lose into a "meme coin." Still, with the continuing rise of "meme culture," expect "meme coin" to continue to be a hot topic.