Faculty Spotlight: Mr. Irv Levy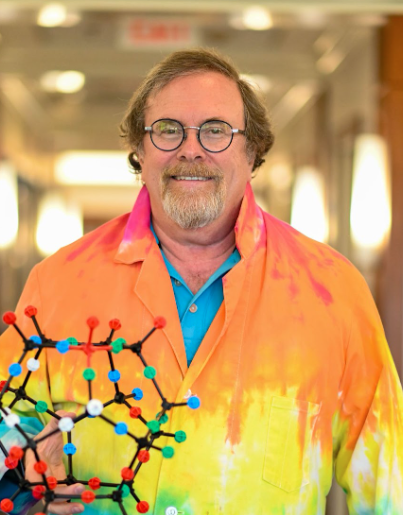 This year, Pingree is sad to be saying goodbye to Mr. Irv Levy, Honors and AP Chemistry teacher. I was fortunate enough to be in Mr. Levy's AP Chemistry class this year, and the experience was truly unforgettable. Although Mr. Levy has only been at Pingree for one year, coming to us from his chemical professorship at Gordon College in Wenham, Massachusetts, he has made a profound impact on not just his students, but anyone lucky enough to see him around campus. Mr. Levy fit seamlessly into our community, donning his rainbow lab coat on the first day of classes and stepping wonderfully into his teaching role. Even my classmates who were not lucky enough to have him as a teacher remarked on Mr. Levy's embodiment of the Pingree spirit of kindness, curiosity, and fun. 
Mr. Levy brought his passion for teaching to the classroom, striving to turn complex chemical ideas into exciting opportunities to learn. Resonance structures switched from frustrating and seemingly unintelligible rules into "games" in figuring out the least possible formal charges. As part of our capstone week, in which teachers encouraged student curiosity through creative projects, Mr. Levy borrowed an advanced spectrophotometer from Gordon College for us to use in identifying molecules we made in the lab. He gave us new opportunities to push ourselves and our learning, unafraid to go beyond the scope of expected content on the AP exam to ensure we truly understood concepts. One of Mr. Levy's natural talents lies in communicating difficult material in ways that students understand. Incredibly receptive to any blank stares as we covered new ideas, Mr. Levy would pause the class and translate complicated theories using diagrams, examples, and comparisons until he ensured every student understood. There were many times I struggled in the class, convinced the multitude of information we covered was going to make my brain explode. Whenever this happened, Mr. Levy always welcomed me into his classroom during his free periods, going above and beyond to help me conceptualize every detail. 
I think every student in my class understood by the end of our first week that Mr. Levy cared about us as people as well as students. Always curious about our lives outside of school, Mr. Levy frequently checked in with us on our sporting and extracurricular endeavors. When we told him about a much-anticipated match of our girls' varsity basketball team against Governor's Academy, Mr. Levy not only showed up to cheer Pingree on, but he didn't sit down once the entire game. He matched the student energy as he enthusiastically urged the team to their thrilling win. On senior prank day, when the soon-to-graduate upperclassmen hired a mariachi band to serenade the school in the dining commons, Mr. Levy could be found in the midst of the action, showing off his dance moves and laughing along with the students. 
Mr. Levy's dedication and excitement will be missed next year, but anyone who knows him is certain he will continue to inspire his spirit of vivacity wherever his next adventures take him. He has been offered numerous professorships at elite universities and is currently in the later stages of interviewing for a position as the Director of Sustainable Development for the American Chemical Society. All of his students know Mr. Levy's devotion to Green Chemistry, a branch of chemistry aimed at reducing the environmental impacts of harmful chemicals, and his commitment to making the world a better place for future generations. We wish Mr. Levy luck in his future endeavors and will miss him next year!