Pingree Boys Soccer Beats Portsmouth Abbey 1-0
Alepa's Early Goal Propels Pingree to Their Third Straight Victory
The Pingree boys varsity soccer team dominated in their match against Portsmouth Abbey this past Saturday, September 24, winning by a score of 1-0.
Similar to their game against Kents Hill last week, Pingree's offense got off to a hot start with a goal from senior captain Danny Alepa within the game's first minute. The goal was assisted off of a pretty feed from junior Graham Butterworth. Despite the fast start, Pingree's offense would fail to score for the rest of the match, although a pair of offside calls erased two additional goals for the Highlanders.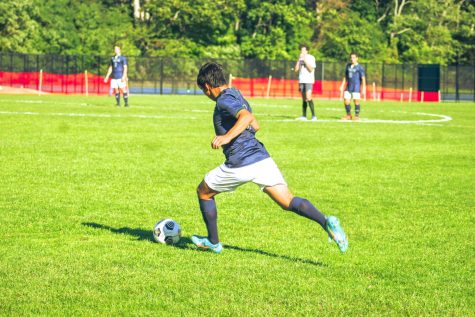 The second half was incredibly chippy, with lots of jawing between the two opponents and a few near-brawl moments.
"The game in general was very scrappy and physical, but we did a good job of staying composed. We hope to do a better job of staying onside, and converting on our scoring chances in the future," said senior Kristian Arrivillaga after the match.
Pingree once again shut out another opponent, but Arrivillaga admitted that Abbey never truly tested their defense or junior goalie Charlie Lynch.
The Highlander's look to win their fourth straight game at home against Dexter Southfield on Wednesday, September 28.