Pingree Football Destroys Portsmouth Abbey, 35-0
Weidman Throws 5 Touchdowns in Rout
The Pingree varsity football team defeated Portsmouth Abbey by a score of 35-0 at home this past Saturday, September 24, 2022.
The highly anticipated season has finally begun for the Highlanders, who dominated offensively and defensively in their first game of the year.
Senior Mekhi Taylor began the scoring affair, reeling in his first touchdown of the season on a 13-yard dart from junior quarterback Hudson Weidman within the game's first five minutes.
Following Taylor, junior Chris Colby caught his first of three touchdowns on the day on a 15-yard post, with just over two minutes left in the first quarter. Weidman lofted a beautiful ball over a multitude of defenders on the score.
Pingree led 14-0 at the end of the first, with Portsmouth Abbey achieving a total of three yards in the quarter.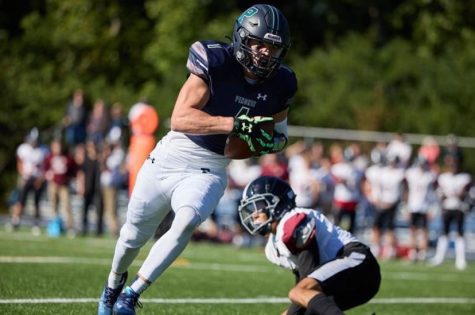 The beginning of the second quarter was more of the same, as Colby reeled in his second TD on a 54 yard laser from Weidman.
A few minutes later, junior captain Jaylon Richardson caught his first touchdown of the season on a corner route off of a beautifully thrown 27-yard ball by Weidman.
Chris Colby would leave his final stamp on the game after scoring his third touchdown on the day, with five minutes remaining in the third quarter. Colby caught a bubble screen thrown by Weidman that he would then take 49 yards to the endzone. The junior wideout ended the game with a whopping 130 yards and three TDs, and quarterback Hudson Weidman finished with 13 completions for 215 yards and five passing TD's.
Portsmouth Abbey achieved a total of eight yards in the game, an astounding defensive feat for the Highlander defense.
Pingree looks to continue to roll with this momentum in their next game against a tough Proctor team on Saturday, October 1.