Pingree falls to Andover, 2-1
Pingree unable to come back from 2-0 deficit
The Pingree varsity soccer team was defeated 2-1 by Phillips Andover on October 12, 2022.
Although a physical and closely contested game throughout, Andover dominated the first half. Commanding the ball and playing smart soccer, Andover was able to take a 2-0 lead over the Highlanders. However, Pingree showed absolutely no signs of giving up despite the tough 2-0 deficit.
Senior captain Rogan Cardinal cut Andover's lead to one with a beautiful penalty kick early in the second half, but Andover's defense held strong and the Highlanders were unable to muster any other points after the PK.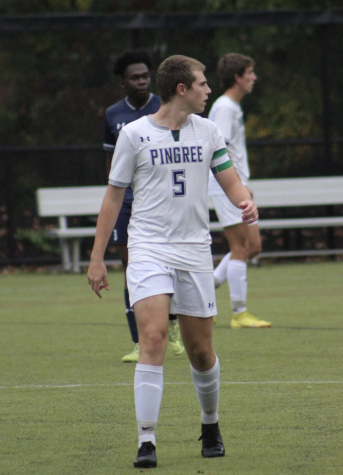 Although Pingree didn't come out of the game with a win, the team was proud of the way they battled an elite club like Phillips Andover. "To lose by only one, to a team as skilled as they (Andover) are, is a win for us in my book." says senior Kristian Arrivillaga. "I was happy with the way we kept our composure in a game that was extremely physical and chippy."
The Highlander's hope to continue with this positive momentum in their next slate of in-conference matchups next week.