Theriault Explodes for Six Touchdowns in Win
Pingree Thumps Berkshire, 46-20
Pingree defeated Berkshire by a score of 46-20 at home this past weekend, October 15, 2022.
Although the Highlanders were without a number of their key stars like Chris Colby and Mekhi Taylor, role players like Matthew Theriault and Jaylon Richardson stepped up in a major way.
Theriault especially excelled, with the running back recording a school record six touchdowns in the win. Three of his scores came through the air, with Theriault reeling in five catches for 198 yards. On the ground, the junior was also unstoppable, accumulating three more scores on 10 carries for 76 yards.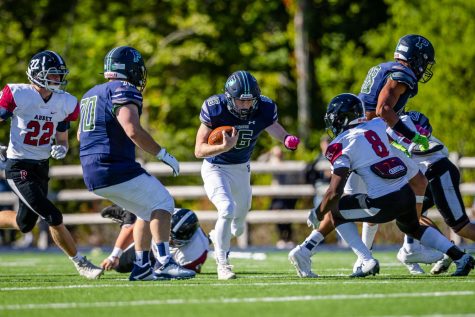 Junior Jaylon Richardson also provided a spark offensively, totaling 114 yards with three grabs of his own.
For Berkshire, the game was never really within reach. Pingree fired out to a 13-point lead early, and although Berkshire responded with a 28-yard score and an onside kick recovery, a forced turnover by the Highlanders combined with Theriault's second score of the game decimated the Bears' momentum. Pingree led 33-6 at the break, and the second half would feature a lot of secondary guys in the lineup.
After the win, Theriault bought doughnuts for each of his lineman who provided nearly perfect blocking all game for the running back. "It was awesome," said senior captain and starting lineman Theo Bachelder. "Tank (Theriault) is an absolute stud. He runs so hard for his size, and he has such a nose for the endzone. There's no one else I'd rather block for."
Pingree hopes to improve to 4-1 with a road win against Wilbraham & Monson Academy on Saturday, October 22.