Pingree Boys Varsity Lacrosse: Hot Start
The team mood is high, the Highlanders remain in the winning column, and spring is in motion. 
Pingree boys varsity lacrosse has had an impressive opening start to their 2023 season. Led by senior captains Mekhi Taylor, Rogan Cardinal, Cameron Dick, and Riley McClure, the Highlanders have earned their 9-1 start. The team's feel around campus is nothing short of optimistic, and players are ready to keep going. 
On April 8th, in a 12-10 win over Brewster Academy, junior Sean Stevens led the team with five goals, showing his strength to the team after a season-ending knee injury last year. Stevens recently committed to the University of Vermont (UVM) and has opened many eyes in the league. Senior Mekhi Taylor also contributed with two goals and four assists. Starting goalie sophomore Max Becker had an astounding 13 saves and propelled the Highlanders to a nail-biting victory. 
So far the Highlanders have outscored opponents 127-57.  Here are the games stats to date.
Goalie Max Becker has collected 52 saves in the first five games. The Highlanders' defense, led by captain and St. Lawrence-commit Rogan Cardinal and University of Maryland Baltimore County (UMBC)-commit senior Cameron Dick, is just as strong and formidable as its offense. The starting defensive unit consists of Cameron Dick, junior Francisco Morales, junior Jack Broderick, senior Remy Poisson, junior Jamie Book, and sophomore Max Kirianov. 
"Broderick is a ground ball machine," says captain Cameron Dick. "He always seems to come out with the ball. Becker is stout in the net and always seems to make ridiculous saves." 
The Highlanders starting offense is just as loaded as the defense. The unit is led by midfielders Mekhi Taylor, Sean Stevens, Riley McClure, and Fairfield-bound attackman junior Bodie Cannata. Other key players of the offense are sophomore Quinn Donovan and junior Dylan Feeks.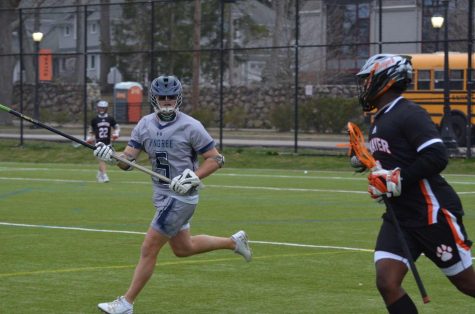 "We have the potential to be the best Pingree offense in recent years. It just comes down to trusting one another and working as a team," says Mekhi Taylor. "Coach Tersolo uses all of our offensive talents to the best of our abilities and makes what would be a good offense a great offense." 
Unfortunately, the Highlanders had their first loss of the season against Holderness on Wednesday, April 12. It was a good battle against a well-rounded and well-coached team, but Pingree ended up down 5-11. Holderness players used ball possession to their advantage and used their perimeter shooting to prevail against Pingree's zone defense. 
The Highlanders took on Brooks School, showing a dominant 14-2 win. "Young guys like freshmen Jake Hiltz and Teddy Whipple showed off their skills. Also a shoutout to sophomore Marco Mattola for hopping in the net to hold off Brooks," says Skidmore-commit Remy Poisson. The Highlanders went into the long weekend off a win, preparing for their next matchup.
The Highlanders showed continuous domination against Concord Academy, Lexington Christian Academy, and St. Paul's School. A broad spectrum of players got to play in these games, show all the skills and new talent the team has. 
Leave a Comment