Pingree's Leap in Athletics 
The challenging road to a Pingree School track has finally come to an end! On Wednesday afternoon, April 19, the school held a ribbon cutting ceremony, recognizing coaches, parents, and donors for their contributions to the new track. 
Dr. Johnson gave an inspiring speech at the ceremony to show track pride. After the speech, all the runners were asked to run through the ribbon as a way to officially welcome the track into the Pingree community. 
Betsy Kennedy, Pingree's director of athletics, had a crucial role in developing the plan for the new track. "We always wanted a track to support our track and field programs, so our members could thrive," says Kennedy.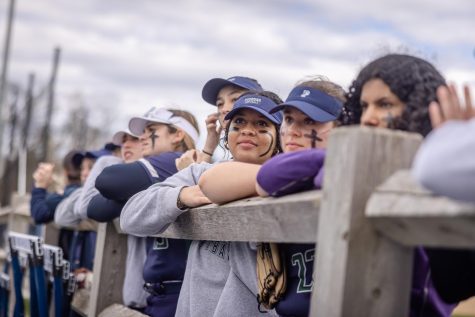 And she finally got her wish with the help of much fundraising from parents, alumni, and Cara Lawler, the director of the advancement office at Pingree. Ms. Kennedy explained that the completion of the track was carried out in a two-phased project, the first phase being the turf field that was put in a few years ago, and the second phase being the track. 
Early designs for the second phase were made with landscape architect Huntress Associates, which provided the blueprints that created a vision. But it was Catalodo Builders who truly brought the track to life. They had to consider many aspects on how the new track would function without interrupting existing fields. Some aspects they had to focus on were proper drainage and fencing, construction of retaining walls, and design and striping on the track. 
Coaches and faculty also had a major role in the journey for the new track. They believed it would increase enrollment in the world of track, and attract more track athletes for the school. Knowing this year will look different, Head Coach Paul Swaim says, "It's like night and day! Our athletes can now practice in meet day conditions every day! It always amazed me that our teams were always competitive. One of our alumni coined our mantra: #we run on concrete but we still eat, and it was so true! It was a matter of pride for us, we always competed! I think we'll have coined a new mantra."
One of Pingree's trainers, Jenn Brooks, shares that she was "hopeful for less injuries in field events, and less overuse injuries from running around the athletic center" which is what the runners had to do last year. She is also excited to see her students participate in meets, for she is only the trainer at home meets. 
The runners have had a much more exciting track experience this season. They have been able to truly practice field events, such as the long jump, high jump, and shot put. Runners also get a feel for what it's like to do handoffs on a real track, something they could not practice last year. Enthusiasm towards the track has been shared in many different ways. While last year's runners didn't host any home meets, this year they wish there were more.
"I'm sad we only have one home meet," says freshman Allie Stella. 
Bright futures are ahead for track and field athletes here at Pingree!