Transferring to Pingree
Transferring to a new school is no easy feat –let alone transferring during the formative years of high school.
The senior class of Pingree has six transfer students, five transferred before junior year, and one student transferred before senior year. All six came from different towns and had their own reasons for their "change of plans". 
Colin McCloy, a member of Pingree's class of 2023, transferred to Pingree after his freshman and sophomore year at Newburyport High School. McCloy's main reasons for transferring involved Pingrees advanced academics and the strong men's lacrosse program. McCloy also looked at other prep schools, including Brooks and Governors, but ultimately decided on Pingree.
At first, McCloy found the transition to Pingree somewhat challenging. "Trying to meet all new people was difficult because I didn't really know anyone, except for my younger sister who also transferred to Pingree at the same time as me," he says.  Despite his initial worries and struggles, McCloy adjusted in no time . "The best thing about transferring was in fact meeting new people here because I really like the closeness and support of the community." 
McCloy provides advice for future transfer students. "Come in with confidence and be yourself because people are welcoming to genuine people." Not only has McCloy thrived on the lacrosse field as a captain, but his positive energy has truly made Pingree a better place.
McCloy's teammate Rémy Poisson transferred to Pingree at the same time and for similar reasons. Pingree's lacrosse coach, Kevin Tersolo, reached out to Poisson to introduce the idea of transferring to Pingree. "I had lost two seasons of lacrosse to Covid, so I was easily persuaded to not only transfer, but to repeat my junior year at Pingree," Poisson recalls on his experience. Similar to McCloy, Poisson transferred from public school in Marblehead; however, Poisson only applied to Pingree. 
"I really only transferred to Pingree for lacrosse," Poisson says, "and that ultimately led me to hating my first year of Pingree up until the lacrosse season." Not only was Poisson struggling to find himself in a new school, but he also had a hard time leaving his community with only one year left. "Watching my friends celebrate their last year of high school was definitely hard for me, especially as I was adapting to Pingree's high level of academics during one of the toughest years of high school."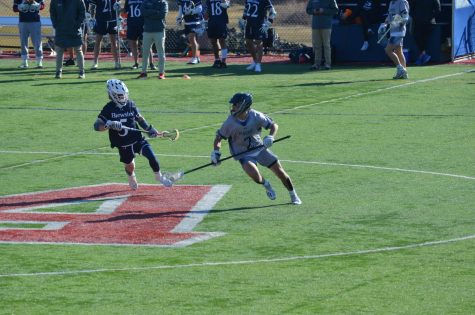 With this being said, Poisson made a splash on the lacrosse field and has become someone everyone wants to be friends with. His contagious energy and humor has helped him to become a true member of the Pingree community. "Put yourself out there," Poisson adds. "I definitely didn't take the time to get to know anyone until the lacrosse season, and as it turns out the people here are really cool."
Leave a Comment